Whether you're buying, selling or just looking around, if you're doing it in the Acton, Boxborough, Concord, Groton or surrounding areas, real estate agent Roger Y. Allen and his team can help.
From information geared towards buyers, such as insight on the local community to advice about finding a mortgage, to information geared towards sellers, such as preparing your home to sell, it's all available on this web site. Additionally, we invite you to search for your ideal home by viewing the most current MLS listings, complete with detailed descriptions and photos. Finally, allow us to help determine the value of your home by requesting a report that includes the prices of similar homes that recently sold or are currently for sale in a variety of Metrowest Boston areas.
What the Roger Y. Allen Real Estate Team Can Do for You
With expert knowledge of the Boston Metrowest area, team members provide valuable advice on location, school districts and local amenities, so you get the absolute best property for your family's needs and lifestyle. Whether you are looking to settle down in the family friendly towns of Acton and Boxborough, or purchase a condo in historical Concord, we've got you covered. With years of sales experience, first-hand local knowledge (Roger and his team have lived in the area for many decades!) and a proactive, dedicated approach, each member of the team is skilled at finding you the right property, in the right place, at the right price.
If you're selling a home, The Roger Y. Allen Real Estate Team has extensive local knowledge, giving them the insight needed to properly price, position, and market your property to the area's buyers and investors. There are no stale, cookie-cutter listings here; just properties that are poised to sell –fast!
The Roger Y. Allen Real Estate Team Approach
As Realtors, Roger and his team take a hands-on approach to their client relationships. They work hard to match buyers with the perfect properties for their budgets and needs, and are dedicated to getting sellers as much bang for their buck as possible. With these principles at the core of the team's business mantra, they are dedicated to exceeding all expectations. If that requires negotiating on selling prices, making staging recommendations, conducting market research, or reaching further outside their service area to find the ideal home, Roger and his team are willing to go the extra mile to get it done.
Buyers
Whether you're looking for your first home, your dream home or an investment property, The Roger Y. Allen Real Estate Team is committed to providing you with the highest quality buyer service. When making the type of investment that buying a home requires, you deserve to have all the latest market information and the very best advice, both of which we can provide you with. Read more.
Sellers
The decision to sell a home is often dependent on many factors. Whatever your reasons are for selling, our proven effective marketing strategies will ensure that you get the highest possible price for your home. We guarantee to provide you with professional, ethical and confidential service and keep you fully informed every step of the way. Read more on Selling Your Home.
Areas & Communities Served
The Roger Y. Allen Real Estate Team primarily serves Acton, Boxborough, Concord and the surrounding communities of Metrowest Boston. As suburbs of Boston, the communities that make up the Metrowest area offer a quiet, small-town feel with all the amenities of the big city just a short drive away. Many residents of these towns will tell you that it truly is the best of both worlds.
Known for friendly residents, great schools, and a tightly knit communities, these areas beckon families of any size, shape and background. No matter where you hail from, whether you are a longtime New England resident, or a transplant, you're sure to find a home that suits you in any of the communities we serve.
Here are just some of the communities the Roger Y. Allen Real Estate Team serves:
Boxborough
Concord
Groton
Westford
Harvard
Stow
Lincoln
Carlisle
Sudbury
Littleton
Lexington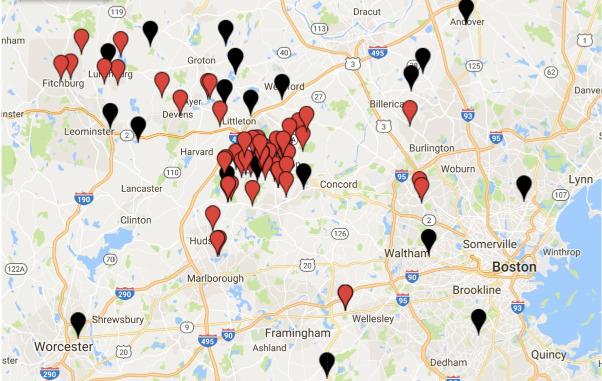 If you're looking to sell your Metrowest property, be sure to head to our Home Values page, where you'll find information about the local market, area home pricing and other important data. Then, contact our team for a complementary market analysis to help you properly price your home.
Get in Touch
Have questions? Want to start looking at local properties? Check out our current listings, or contact us for a personalized property list tailored to your wants and needs.